10th September 2018
VISION is joint headline sponsors of the ABP Club Night of Knights Awards
---
VISION powered by Bluegrasscoms is delighted to be the headline sponsor in partnership with Audatex for the ABP Club Night of Knights Awards. The ABP Club Annual convention features conferences that will address the key issues within the motor claims, supply and repair sectors. We are thoroughly looking forward to the special guest speaker in the evening for the Night of Knight awards.
This event aims to recognise and reward those in the industry that achieve the high standards across the industry; these awards are unique in that suppliers are judged by bodyshops and the people within them who use these companies every day.
As a company that connects crash repairers directly with the vehicle manufacturers using specially designed software, we are proud to be supporting such an illustrious event. To support this in partnership with our real-life company partners, Audatex, who have been working with all the major motor insurers and bodyshops for over three decades, cements our market leading partnership.
For more information about the event, visit: https://bit.ly/2x0XXD3
30th July 2018
1st Automotive Industry Open Charity golf tournament
---
On the 19th of July, Bluegrasscoms participated in the 1st Automotive Industry Open Charity golf tournament. The event started off with registration at 10 am, our team arrived bright and early to have a little practice, and to take full advantage of the bacon butties and drinks at the reception. Upon arrival they were also greeted with a new set of balls tee's and an embroidered drawstring bag to look after their equipment.
The Charity event was held at Telford golf club, an exciting 18-hole course only aided by the lovely current english weather. Tee off was at 12pm with a shotgun start, Bluegrasscoms started on the 17th hole, alongside the standard competition there were also prizes for the nearest pin, beat the pro and longest drive. Participants were given a Smartphone so that they could track and log their scores, all of which were updated live to the clubhouse leader board.
After the holes were played there was a dinner and drinks where the awards were handed out. We are very proud of the Bluegrasscoms team for coming in 3rd overall. Accompanying the awards was an auction, bidding on holiday breaks and spa packages. However, the main reason for the event was not forgotten, to have a laugh and to raise some money for an excellent cause, BGC were proud to sponsor the event and to raise awareness of DEBRA.
Debra is the charity "for people whose skin doesn't work – we do", this charity supports individuals and families affected by Epidermolysis Bullosa (EB) which is a painful genetic skin blistering condition. If you would like to find out more about the charity or donate, please visit: https://www.debra.org.uk/about-us/about-debra
11th June 2018
IBIS Global Summit 2018
---
This week, Bluegrasscoms representatives have travelled to Munich, Germany to attend IBIS Global Summit 2018. The event will host more than 350 delegates from across the globe.
The two day event "promises to provide the perfect mix of culture and insight, allowing delegates to develop new and existing relationships, to help drive their business forward."
For more information on the event, please visit: http://ibisworldwide.com/ibis-global-summit-2018/
24th May 2018
Nissan Europe
---
Bluegrasscoms Ltd are delighted to announce they have been appointed, following a successful tender, by Nissan Europe to act as the lead agency for their Trade Parts Coaching and Support activity over the next year.
This programme is focussed on building a sustainable Trade offering throughout Europe and is part of the strategic direction set by Nissan Europe.
This deepens our partnership with Nissan Europe and also builds on our ever-growing geographical footprint supporting our expansion in to new markets.
17th April 2018
ENG Event
---
At Bluegrasscoms we are keen to continually refresh and update our ideas on effective and innovative strategies for aftersales and aftermarket parts and services to ensure that we are upholding our market leading positioning. We are very excited to announce that we are Bronze Sponsors for the 4th Annual Automotive Parts Management event being hosted in The Renaissance Düsseldorf from the 25th-26th of April 2018. This event will include exciting topics such as:
Evaluating parts logistics, distribution and stock management techniques to improve "on time delivery"
Identifying the most effective cost reduction strategies in the parts business
Innovations in developing a competitive parts pricing strategy
Making the case for genuine parts
Coping with the rise of E-business and the independent aftermarket
The reason for this event being that the current consumer demands a quality car followed by quality service and parts, which creates a number of opportunities for practitioners to connect with clients to enhance the aftersales and parts sales market.
Speakers on the panel include:
Charles Martin - Parts and Service Operations Director for Groupe PSA UK
Raoul Heinze – Director EU Automotive for Amazon
Stuart Bartlett – Chief Executive Officer
If you want to know more about this event visit:
http://www.engevents.com/automotive/autoparts-2018
10th April 2018
Bluegrasscoms Spain getting the Plaque of approval!
---
2017 saw Bluegrasscoms expand further when we hired our first employee in Spain. Lourdes brought her depth of knowledge of the aftersales parts market to Bluegrasscoms and has since helped us to strengthen our relationships with leading vehicle manufacturers across Europe.
The expansion to Spain has been further cemented with the opening of our Bluegrasscoms Spain office and the unveiling of our plaque on the wall. We are proud to be continually growing and are excited for what the future will hold.
10th April 2018
BlueAudit: The Bodyshop Auditing App
---
Bluegrasscoms have reviewed the many implementations of standards management tools and uncovered some core failings in the speed at which standards can be created/edited and deployed. Due to this Bluegrasscoms have decided to find a superior solution. For any set of standards, the BlueAudit mobile app and online management console provide a simpler, more cost effective and agile solution to support this critical area of your business.
How it Works
Creating a question is as simple as picking the question and answer type and adding the text/scores. Once you're happy and the questions are stored in the database, a user can simply hit refresh on their mobile app and the latest set of questions are downloaded to their app. History of previous audits are stored online, and each question has a unique identifier, so we never lose traceability to previous audits, with the added benefit of rapid updates to the current team. BlueAudit lets the user follow smart checklists, conduct audits and file reports from a mobile phone or tablet.
The BlueAudit app transforms paper-based inspection forms and brings them up to date and keeps everything in one place.
The app lets you capture more information and include rich media such as photos and scans.
With everything stored electronically reporting is easy and can quickly show areas for concern, warnings, escalations and standards KPI monitoring with trends, comparisons and simple to digest charts.
20th February 2018
VISION to reach another major milestone in 2018
---
VISION powered by Bluegrasscoms will reach another major milestone in 2018, accessing almost £1billion of crash repair estimates across major European countries for intervention, with its genuine parts procurement solution.
Read the full article here.
6th February 2018
VISION visits Ford Germany
---
Bluegrasscoms flew over to Cologne, Germany to spend a very productive day with Ford Motor Company.
The main topic of discussion was the European roll-out of our solution for genuine parts procurement, VISION. Do you want to find out more about VISION? Head over to https://lnkd.in/dWzCKjN
28th November 2017
Bluegrasscoms are delighted to announce that they are to partner with Groupe PSA in the UK to provide Conquest Parts Sales Reps.
---
The purpose of these Reps is to work, on behalf of their designated Parts Distributor, to build and grow relationships with existing and potential customers.
Bluegrasscoms are responsible for the selection and central management, including Sales focus, of the team and each Rep is provided with their own CRM Mobile App, built by the in house development team at BGC which links the whole sales process together in a seamless manner.
We are delighted to continue growing our relationship with Groupe PSA and see the demand for centrally controlled Sales Teams growing in an aggressive market place.
"We were keen to retain control of this key activity whilst letting our partners manage the sales focus for the Reps. Using the Bluegrasscoms CRM and field management team meets both of these requirements and we are really excited by this programme and the potential it has to support our growth."
- Andy Hall of PSA Group, Director Parts & Service Business Development
For more information on both Field Teams and the CRM Toolkit, please contact info@bluegrasscoms.com
2nd November 2017
Bluegrasscoms welcomes Lourdes to the team!
---
For the past 10 years Lourdes has been leading and managing aftersales projects across Europe, working closely with the leading vehicle manufacturers including, Opel Europe, Nissan & Hyundai. Lourdes has worked both on Manufacturer sites and across the regions with fantastic results in both. Lourdes is happy working with Dealers on the ground or NSC staff in the central teams and brings a wealth of knowledge to any programme. Lourdes joins Bluegrasscoms to continue helping clients to increase part sales and offer digital solutions to vehicle manufacturers in the Spanish and Portuguese regions.
We are delighted to announce this appointment and look forward to developing our offer in new markets as we continue to provide our Clients with tools and solutions to help thier business grow.
16th October 2017
Bluegrasscoms Improves Services to the UK Crash Repair Market with Audatex UK!
---
Audatex UK is part of the Solera group of companies, the number one global provider of software to the automobile claims processing industry. Audatex UK has been working with all the major motor insurers and bodyshops for over three decades. Audatex UK processes over two million collision claims in the UK every year, for over two thousand repairers.
For the past five years, Bluegrasscoms have been perfecting VISION – the global solution for genuine parts procurement. VISION connects crash repairers directly with vehicle manufacturers, using specially designed software to notify the vehicle manufacturers sales teams of every crash. VISION is the only parts intervention platform in the UK that works solely with vehicle manufactures.
Bluegrasscoms VISION will receive a feed directly from Audatex enhancing its parts interception service whilst complying with the impending GDPR requirements. OEMs and bodyshops with VISION agreements will benefit from improved speed and accuracy of information. Bluegrasscoms will be able to provide a more effective, timely service to bodyshops whilst supporting its manufacturer programmes.
Quote from Stuart Bartlett, CEO of Bluegrasscoms:
"This is an exciting development for both companies. For us at BGC it allows us to improve our manufacturer programmes and provide a more efficient service to more bodyshops in the UK crash repair market. VISION is already the market leading parts procurement platform in the UK, and this alliance cements this already market leading proposition."
If you are a vehicle manufacturer or bodyshop and wish to join us in this exciting project, please contact our VISION team on 0844 247 3577 or email info@bluegrasscoms.com.
13th October 2017
Bluegrasscoms Enjoys the Festival of Marketing 2017
---
Written by Lenny Pitt.
Bluegrasscoms got themselves down to the Festival of Marketing this week at the Tobacco Dock in London. The Festival of Marketing is a two-day event that is sponsored by some of the biggest names in online networking, social media and technology.
The festival is a bonanza of talks, seminars, workshops and interactivity with some of the most forward thinking, exciting minds in the marketing world. Bluegrasscoms arrived at the site nice and early on Wednesday 4th of October to beat the queues and to get a good seat for the opening headliner... Stephen Fry.
To read the full article, click here
10th October 2017
Mike Thompson, Nissan Motor (GB)'s former aftersales director, has become a director of Bluegrasscoms
---
Chief executive Stuart Bartlett said: "As our clients learn to trust us and see how we deliver time and time again in driving revenue growth, they have started asking for more help.
"Mike (pictured) has the experience of service and process as well as the insight into working in an OEM, so is ideally placed to help us grow into these new areas whilst being able to fully understand what the OEM needs to achieve."
Thompson was Nissan's aftersales director for two years. Before that he was its network strategy director.
28th July 2017
BGC Sponsor Reading Abbey RFC
---
At Bluegrasscoms we are keen to support our local community, doing what we can to improve and maintain it. Sponsoring Grassroots sport is a fantastic way of doing this. Contributing to the upkeep of a local team is both inspiring for the employees of Bluegrasscoms and the participants and spectators of the sport.
RARFC helps people in the surrounding areas to stay fit and healthy and help to develop an individual's talents. We all know how amazing a successful sporting career can be and we want to help make sure our area is as strong as possible in creating sporting talent. The club also brings people from the local community together and gives young people the opportunity to meet new friends from different backgrounds, expanding their horizons.
Bluegrasscoms are contributing to the funding of Reading Abbey RFC so it can keep its facilities and infrastructure as modern and up to date as possible. Our funds will help pay for administrative costs improving the smoothness with which the club is run and expanding its catchment area. Our funds will also help provide quality training equipment, such as tackle bags, as well as playing equipment, such as balls and kit. This will give the coaches the best chance of helping the club better itself whilst also helping the club maintain and improve its professional outlook.
11th July 2017
Play VISION's Game Of Parts and take the Parts Throne
---
The more notes you hit, the higher your score. Think you can take the Parts Throne?
gameofparts.vision-bluegrasscoms.com
Taking inspiration from the popular TV series, Bluegrasscoms Marketing have created Game of Parts; a game in which the user plays along to our Game of Parts theme tune with honking car horns, using the arrow keys on your keyboard… think Guitar Hero but better!
Built entirely in-house by Bluegrasscoms, the game is touch enabled for mobile devices, is simple, silly and a well made distraction whilst at your desk!
21st June 2017
FCA approved Bodyshop programme
---
We are delighted to announce that we have taken over the management of the FCA approved Bodyshop programme.
Together - Vision, TLA and the Approved programme under one roof not only offers synergies in costs and investment but also gives the Brand one central point of contact.
We look forward to building a solid network designed to deliver the very highest standards that our end customers expect and deserve.
1st June 2017
New partnership with Opel Europe
---
Bluegrasscoms are delighted to have been selected as the new Partner for the Opel Vauxhall European Trade Programme.

The programme adds to our current growth strategy for Europe and will offer our new partners the chance to benefit from our experience in the UK market which is still the most competitive space for service and maintenance parts.

Offering full programme management, marketing and communications support to increase parts sales we believe we have the right offer to do what's important – sell more parts!

If you'd like to know more about how we can help your business grow – please contact us

info@bluegrasscoms.com
10th May 2017
The British Bodyshop Awards 2017
---
Bluegrasscoms last night attended the annual British Bodyshop Awards 2017. Now in it's 6th year, the British Bodyshop Awards celebrates excellence within the industry and has quickly become established as the biggest and best awards ceremony within the accident repair industry. We were honoured to be a Diamond Partner at this years event, with guests from Ford and Fiat joining us for the evening. As always, ABP hosted a brilliant event! #BBA2017
20th April 2017
#letsnot
---
At Bluegrasscoms we do things properly. We work tirelessly to make sure the work we do for you is to the highest possible standard. Whether you need marketing, data analysis, digital or graphic design, telesales or even business consultancy we will give you and your business our full attention.

Bluegrasscoms will be thorough from beginning to end. We will never have to use any meaningless business jargon as an excuse for shortcomings or as an attempt to make it seem we know what we are talking about.

This means Bluegrasscoms will never "drop the ball", you will never have to "bite the bullet", our telesales team will never just "touch base", our designers will never "do more with less" and our data analysts will never give you "Ball park figures".

This is the inspiration for our new 'Let's Not' campaign, and our new t-shirts! Please pick one up next time you come in!

#droptheball
#letsnot
#business #bluegrasscoms
27th March 2017
Vauxhall are back in the British touring Car Championship
---
Bluegrasscoms marketing team have been working with Vauxhall Trade Club on their sponsorship of the Power Maxed Racing team for the 2017/18 Official BTCC race season.

Best of luck to the teams drivers, Senna Procotor and Tom Chilton! Photos taken at the season launch event at Donington Park on Thursday 16th March.
3rd March 2017
PSA VISION European roll-out commences
---
Bluegrasscoms prepare for a trip to Madrid for the start of PSA VISION European roll-out.
2nd March 2017
Ford UK AWG members
---
This morning Ford UK AWG members held their quarterly review meeting at Bluegrasscoms head office.
23rd February 2017
How exactly does VISION work?
---
Let us take you on a journey…
vision-bluegrasscoms.com/vision-process/vision-interactive
12th December 2016
Christmas and New Year Opening Times
---
Saturday 24th December - CLOSED
Sunday 25th - CLOSED
Monday 26th - CLOSED
Tuesday 27th - CLOSED

Wednesday 28th - 9.00am - 4.00pm
Thursday 29th - 9.00am - 4.00pm
Friday 30th - 9.00am - 4.00pm

Saturday 31st - CLOSED
Sunday 1st January - CLOSED
Monday 2nd January - CLOSED

Usual hours will resume Tuesday 3rd January 2017.
25th November 2016
PSA Trade Team Black Friday Promotions!
---
Adrian Mossop; Manager External Parts Sales & National Accounts at PSA Group, joined the Bluegrasscoms telesales team this morning, to hit the telephones with PSA Trade Team's Black Friday deals!
21st November 2016
ABP Industry Yearbook 2016-2017
---
VISION powered by Bluegrasscoms have sponsored ABP's UK Body Repair Industry Yearbook 2016-2017. it's been 10 years since the first Yearbook was published, which has gone from strength to strength and become widely known as the body repair industry 'bible' for facts, data and insightful analysis. VISION can be found alongside the 'Independent Single Site Bodyshops'.
8th November 2016
Pod Point
---
The Bluegrasscoms HQ have had a Pod Point electric car charging port fitted to the outside of the building.
Another step towards a greener Office!
1st November 2016
Bluegrasscoms are delighted to announce the launch of the Control Centre
---
Bluegrasscoms are delighted to announce the launch of their latest CRM package designed specifically for the automotive sector – Control Centre.
sight.bluegrasscoms.com
Why Control Centre?
The competitive landscape changes - this is an irrefutable fact in business. The competition sharpens up, they focus on what they're good at, they reduce overheads and any disconnects in their business processes and they deliver on their strengths. They, generally, only have one job.
The manufacturers can't necessarily do the same, they have to make cars. Which means that whether you are distributing purely via a franchised network or using multiple channels to get your products out there, there is one thing you must maintain and rely upon – Control. You need to trust your suppliers, their processes and their systems in order to Win in the marketplace.
Winners bring in experts.
Winners use the best solutions.
Winners take control.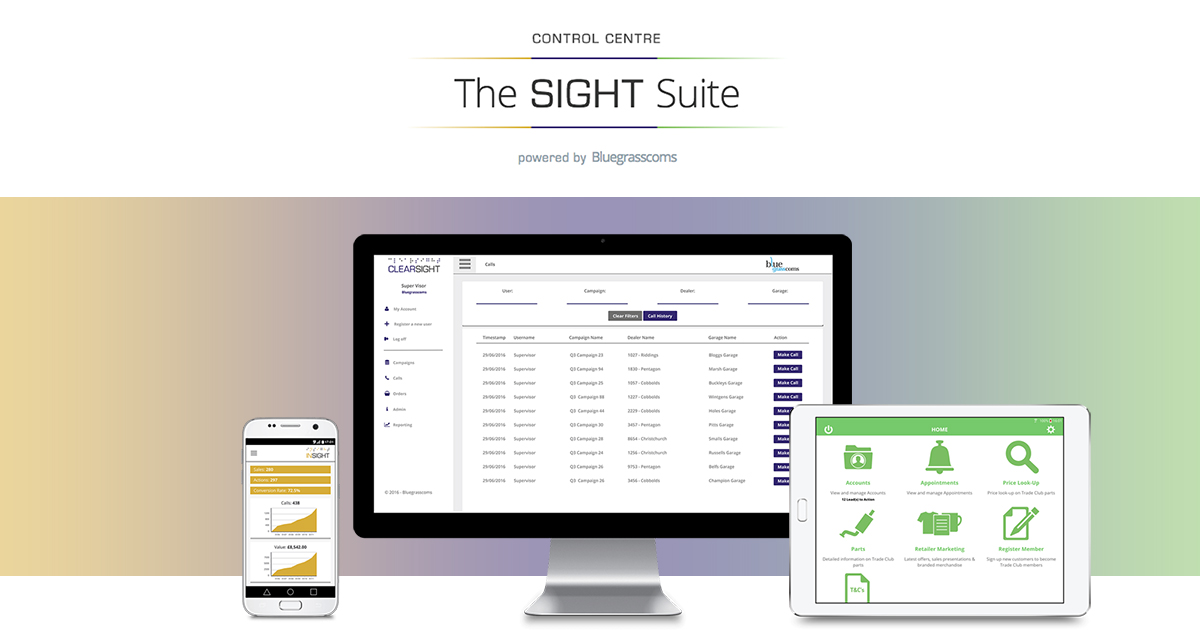 31st October 2016
Pumpkin Carving Competition
---
In the spirit of Halloween, Bluegrasscoms teamed up in our departments to take part in a pumpkin carving competition. Teams were given 1 hour to be as creative as possible! Lucy from Telesales won with the below masterpiece!
11th October 2016
An interview with Bluegrasscoms
---
Bluegrasscoms were featured in Autumn 2016 issue of ABP Club. As VISION prepares to go worldwide, we discuss how the business has grown in the last 18 months.
29th September 2016
Collaboration with Ford Motor Company Limited for Quarter 4 trade marketing and telesales campaign
---
Bluegrasscoms are excited to announce that Ford Motor Company Limited will be collaborating with us, to roll out a Quarter 4 trade marketing and telesales campaign.
Following Ford's implementation of VISION, the vehicle manufacturer will now be working with Bluegrasscoms to promote a series of trade parts offers via a multi-channel campaign.
Ford will benefit from Bluegrasscoms' fully integrated marketing services, with a campaign that includes both print and electronic direct mail, supported by outbound calls for selected dealers made by our in-house telesales team.
8th July 2016
Peugeot Citroën National Trade Team Conference 2016
---
As part of our offering for the Peugeot Citroën National Trade Team Conference 2016, Bluegrasscoms spent the week filming a series of interviews with Mark Boret of Fleetline Coachworks Limited and members of the VISION team to demonstrate the benefits of our bodyshop system.
The theme of the conference is 'Full Throttle'. It will look at key areas of PSA's Trade Parts strategy and how together, we can improve sales and performance with their parts programmes and continue the progress in the year ahead.
24th June 2016
Ford Motor Company Limited have signed up to a full VISION roll out.
---
Bluegrasscoms are delighted to announce that Ford Motor Company Limited have signed up to a full VISION roll out.
VISION is an elegant solution that gives bodyshops one-stop access to genuine discounted parts from vehicle manufacturers. The ability to use these parts instead of those from aftermarket suppliers can increase the quality of the job, driving total loss avoidance to keep more vehicles on the road, and bring in more trade for the repair centre. VISION is now live with 13 leading vehicle manufacturers, totalling 64% of the vehicle parc. This collaboration with Ford UK represents an exciting addition to our existing prestigious portfolio of manufacturers on the VISION programme.
20th June 2016
Expanding in The North
---
Expanding - in order to keep up with our growing customer demand we are looking to open a new office in The North putting us closer to our northern Bodyshop partners.
11th May 2016
The British Bodyshop Awards 2016
---
Once again Bluegrasscoms attended The British Bodyshop Awards 2016.
Now in its 5th year, the British Bodyshop Awards celebrates excellence within the industry and has quickly become established as the biggest and best awards ceremony within the accident repair industry.
This year the event was hosted by none other than national treasure, Zoe Ball.
It was a pleasure to be surrounded by so many of the industries most talented individuals.
As always, Bluegrasscoms could be found at the centre of the dance floor for most of the night!

Bring on next year!
9th May 2016
Nissan Trade Direct launch roadshow
---
Bluegrasscoms are hosting launch events for the new Nissan Trade Direct programme. The four events will be held at football stadiums up and down the country with the first at Reading's Madejski Stadium, followed by The Stadium of Light, Sunderland and the Etihad Stadium, Manchester.
The event will introduce the new programme standards, new core stock part list, 'strategies for success' training course and a question and answer session.
25th April 2016
Launch of Vauxhall Trade Club Sales App
---
Bluegrasscoms have launched the brand new Vauxhall App to the Trade dealers. This was designed and created by our team of in-house Developers.
The app is being continuously developed to make it a better product.
The Vauxhall Trade Club sales team are now also using Bluegrasscoms own CRM system to make calls and this is proving to be a great success. This system will enable us to feed information directly to the App to create a seamless flow of information throughout the Vauxhall network.
21st March 2016
Auto Body & Motor Claims Expo 2016
---
Bluegrasscoms exhibited at the Auto Body and Motor Claims Expo 2016 on March 16th and 17th. The Auto Body & Motor Claims Trade Show is the largest and most comprehensive car repair and claims event staged in Britain. It caters for anyone involved in the auto body and motor insurance claims sectors. The event took place at EventCity Manchester.
Bluegrasscoms representatives demonstrated and explained our industry leading software VISION at our exhibition stand, complete with an explainer video created by our in-house motions graphic designer. (VISION Explainer Video) The event allowed us to promote VISION and its many benefits.
The show was an overall great success for Bluegrasscoms and we would like to thank the Auto Body & Motor Claims Expo for allowing us to be part of a fantastic trade show. We look forward to next year!

14th March 2016
England V Wales Rugby Hospitality Event
---
Bluegrasscoms enjoyed watching the fantastic England v Wales rugby match this weekend. Thank you to the representatives from PSA and Vauxhall UK that attended the hospitality event. The event provided an amazing atmosphere and a great result as England went on to win the match 25-21 resulting in England winning the Six Nations 2016.

10th March 2016
Nissan GB Trade Programme contract
---
Bluegrasscoms are thrilled to announce that we have been awarded a new contract with Nissan GB to develop a full Trade programme with them, ensuring that Nissan GB and their dealer network are able to service the growing requirements for Nissan parts within the UK aftermarket.
We are enormously proud that we have been successful in our tender to takeover and develop the running of the Nissan Trade Programme, commencing April 2016.
Nissan is a hugely popular and growing brand within the UK market due to their stylish and clearly successful range of vehicles. As their market share has grown, the requirement for parts has equally increased.
Bluegrasscoms will be managing the programme in its entirety, to produce more sales for the programme.
This represents a very exciting time in the development of the Nissan Trade Programme as we look forward to the challenge of building a programme that delivers growth over the next few years.

7th March 2016
VISION featured in ABP Spring 2016 Issue
---
ABP (Auto Body Professional) Spring Issue, should be landing with subscribers this week, in which you can find an advert for VISION. Why risk fitting non-genuine parts? VISION is an elegant solution that gives body shops one-stop access to genuine discounted parts from vehicle manufacturers. To find out more information about our innovative bodyshop system, please visit: www.vision-bluegrasscoms.com

8th February 2016
Expanding our Services; Field Sales
---
From 2016 Bluegrasscoms are now able to offer 'Field Sales' as one of our many bespoke solutions. The role of our Field Sales teams will be to work with dealers on site to fundamentally improve their current systems and increase sales. Like all Bluegrasscoms employees, the recruits are hand pick teams based on their previous automotive experience.

16th December 2015
Bluegrasscoms office hours over the Christmas and New Year period
---
Please see below our official office hours over the Christmas and New Year period.

Thursday 24th December - 8.00am - 12.30pm
Friday 25th - CLOSED
Saturday 26th - CLOSED
Sunday 27th - CLOSED
Monday 28th - CLOSED
Tuesday 29th - 9.00am - 5.00pm
Wednesday 30th - 9.00am - 5.00pm
Thursday 31st - 8.00am - 12.30pm
Friday 1st January - CLOSED

Usual hours will resume Monday 4th January 2016.

Merry Christmas and a Happy New Year!
Many thanks for your business this year. We look forward to continue working with you in 2016.
Best wishes from the Bluegrasscoms team.

3rd December 2015
Search Engine Optimisation training day
---
Last week our two resident Digital and Web Designers, Guy and Tom attended a course in Bristol held by The Web Design Academy.

It was an intensive one-day course, covering the absolute essentials of search engine optimisation. Having already got a basic understanding about SEO, they were set for detailed discussions and exercises using real-world examples. The aim was about optimising your online presence and uncovering the secrets of ranking high on search engines. After a long Google filled day, Tom had this to say 'It was very full on and covered everything that we needed to apply into our own online platforms!'

We look forward to them putting their new found knowledge into action in the coming weeks!
3rd November 2015
Get The World Moving!
---
We've signed up to "Get The World Moving"! For 100 days, hundreds of thousands of employees compete to improve both their physical and psychological health.

21 Bluegrasscoms employees have formed THREE teams to track their activity and work towards a daily target of 10,000 steps.

The leading team has racked up a huge 1,184 miles so far (see map!). With 47 days to go, can the other two teams bring it back?
6th October 2015
Bluegrasscoms Autumn/Winter telesales campaigns
---
Bluegrasscoms telesales team this month commence Autumn/Winter telesales campaigns.

Vauxhall Trade Club's P4 campaign, running until December. The team will be contacting 12,000 customers during this period. The campaign focuses on getting prepared for Winter, with Trade Club batteries and genuine Antifreeze offers.

Renault telesales campaign is running until the end of October, promoting locked prices on cambelt kits. The campaign sees the introduction of price reductions of up to 34%.

If you have any enquiries about either of these campaigns, or would like to discuss Bluegrasscoms running your own telesales campaign, don't hesitate contacting Bluegrasscoms' Chief Sales Officer, Marc Russell.

mjrussell@bluegrasscoms.com
22nd September 2015
Bluegrasscoms will be attending Bodyshop Event and Awards 2015
---
Representatives from Bluegrasscoms will be attending this years exhibition and awards taking place on 24th September. We are also pleased to welcome to our table for the evenings events Martin Kerr, Jamie Cormack and Mathilde Jeakings on behalf of Nissan and Leonie Douglas from PSA Peugeot Citroën.

The Roaring '20s is the theme for 2015, giving delegates a chance to suit up and enjoy the company of their peers in an atmosphere of refined class and uncontainable enjoyment. The daytime Event, featuring interactive stands from exhibitors covering all aspects of the market, will once again be free for bodyshops, insurance companies, vehicle manufacturers and work providers who pre-book.

The bodyshop Awards, still the industry's only independent accolades, are returning to recognise the best and brightest in the industry.
15th July 2015
Vision is featured in the latest Summer issue of Auto Body Professional
---
Our bodyshop system; Vision is featured in the latest Summer issue of Auto Body Professional, released this week. Keen to get Vision installed for free in your bodyshop? Contact the team today (0844 247 3577) to find out how!
22nd June 2015
Telesales team begin the Vauxhall Quarter 2 Dormant customer awareness campaign
---
This morning the telesales team will commence the calling for the latest Vauxhall campaign. The calls will run for the remainder of quarter 2 and will focus on dormant customers for over 80 retailers (5500 calls in total). The aim of the calls are to re-engage the customers with the network whilst promoting the special offer pricing on 5w/30 oils.
19th May 2015
Bluegrasscoms attend ABP's annual British Bodyshop Awards 2015, hosted at Battersea Evolution
---
Last week we attended ABP's annual British Bodyshop Awards. The night was hosted at Battersea Evolution. The event brings together major insurers, accident and claims management companies, vehicle manufacturers and independent bodyshop networks to recognise and award their highest performers.

To continue the high level of hosting of Rob Brydon, Clare Balding and Gabby Logan, this year was hosted by another high profile celebrity, Fiona Bruce! As usual, a brilliant night was had by all that attended. We were privileged to be joined on our table by Leonie Douglas of Peugeot Citroen and Benoit LePage from Renault.

Our innovative bodyshop system; Vision, also sponsored this years Victorian style games and food carts that kicked off after the award ceremony.
15th May 2015
Bluegrasscoms Head Office moving day
---
As of 1.00pm on Friday 8th May 2015, we will be closed for the rest of the afternoon whilst we relocate to our new Head Office.

Our new Head Office address is: Construction House, Winchester Road, Burghclere, Newbury RG20 9EQ

Business will resume as normal on Monday 11th May at 8.00am.

All emails, calls, faxes, etc will be responded to as soon as possible upon our return.

Thank you for your cooperation during this time.
8th May 2015
The move is well under way!
---
The move to our new offices is in progress, we are on track to be fully moved in and business will resume as normal on Monday 11th May at 8.00am.

Our new Head Office address is: Construction House, Winchester Road, Burghclere, Newbury RG20 9EQ
30th April 2015
Bluegrasscoms May Bank Holiday office hours
---
Please see below Bluegrasscoms official office hours over the May Bank Holiday weekend.

Our new Head Office address is: Construction House, Winchester Road, Burghclere, Newbury RG20 9EQ

May 2015
Saturday 2nd – CLOSED
Sunday 3rd – CLOSED
Monday 4th – CLOSED
Tuesday 5th – 8.00am – 5.30pm
28th April 2015
Telesales team commence Renault's Service Exchange Parts Awareness campaign
---
This afternoon the telesales team commence Renault's Service Exchange Parts Awareness campaign.

The campaign runs April-May 2015 for 21 days.

It includes products such as: injection pumps, air-con pumps and starters. All Renault Service Exchange parts are certified Genuine Parts and they come with the same warranty, regardless of mileage.
8th April 2015
Bluegrasscoms are on the hunt for a SEO/Social Media Executive!
---
This is a new role within a fun, professional team and an exciting opportunity to help drive our rapidly growing creative business forward. The correct person will be goal oriented, possess exceptional attention to detail, and have outstanding interpersonal skills. They must have a genuine passion for SEO and overall Internet marketing; this is a new role with real scope to make it your own.

To see the full SEO/Social Media Executive job description, head over to our 'Work for Us' page.
1st April 2015
Bluegrasscoms Easter Bank Holiday office hours.
---
Please see below Bluegrasscoms official office hours over the Easter Bank Holiday weekend.

April 2015
Friday 3rd – CLOSED
Saturday 4th – CLOSED
Sunday 5th – CLOSED
Monday 6th – CLOSED
Tuesday 7th – 8.00am – 5.30pm
25th March 2015
Bluegrasscoms buy new Head Office
---
Bluegrasscoms have recently purchased a new Head Office. This modern 2 storey office building is located just outside Newbury. We are currently renovating the property ready for the big move! We will update you with a moving date in the near future.
15th July 2014
Bluegrasscoms commence telesales to over 6,000 IMT's for Vauxhall UK to assist in their National Oil promotion.
---
Vauxhall UK launched a National Oil Campaign to sell 10w/40 Oil. Bluegrasscoms contacted over 6,000 IMT's to promote oil sales.
8th July 2014
Bluegrass commence market potential exercise for TPS Leeds
---
We have taken the existing customer database from this TPS Centre, we contact the garage and establish the number of mechanics and number of ramps and % of the business that is relevant to the specific VM.

These 3 simple bits of data allow us to establish the exact potential spend for each account.

This in turn can then be used to assess whether the Centre is performing and clearly highlights the areas of opportunity.